Main information:
Rosenau Park
Orangery and kitchen garden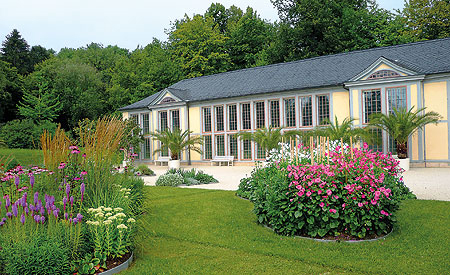 The orangery in the Neoclassical style southeast of the park restaurant dates from around 1800, but was relocated here from the ducal domain of Oeslau only in 1849 under Duke Ernst II (r. 1844-1893). It was used for housing exotic and cold-sensitive tub plants in the winter.
In front of the building there was originally a pleasure garden with a fountain with an adjacent garden for vegetables and herbs modelled on Victorian kitchen gardens in England. To the south of this was an orchard section and an arboretum. In 2008 the area was redesigned on the basis of its original use as a kitchen garden, but in a more modern form. The orangery is now used as an event room.
---
| top |