Main information:
Ehrenburg Palace
Bedroom of the Duke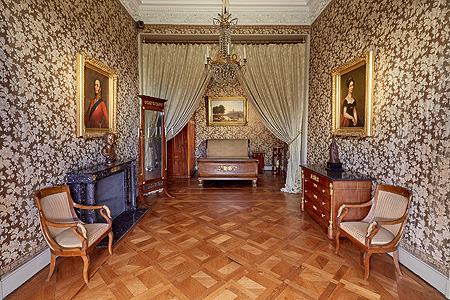 The apartment of the duke was adjacent to the Throne Hall: an Antechamber leads into the Audience Room, which is followed by the Study and the Bedroom.
The mahogany furniture with gilt bronze fittings in the form of swans, which consists of a commode, a dressing table with a mirror, a bedside table and a wash stand with a porcelain washing set, was made in Paris in 1815 and acquired for the bedroom in the time of Duke Ernst I.
Later on Queen Victoria used this bedroom on her various visits to Coburg. In 1860 she had an English-style "water closet" installed in a mahogany cubicle next to the bed – probably one of the first on the European continent.
---
| top |