Main information:
A duchy writes history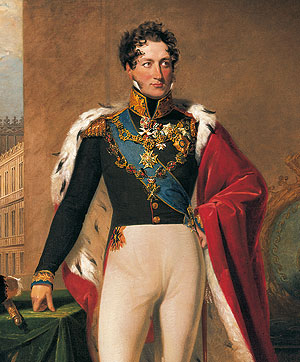 Portrait of Duke Ernst I, 1819
By means of a skilful marriage policy, during the 19th century the house of Sachsen-Coburg and Gotha achieved an astounding rise to prominence. Coburg princes and princesses were eventually related to all the important ruling houses of Europe, occupying, among others, the thrones of Belgium, Bulgaria, Greece, Great Britain, Hesse, Mexico, Norway, Portugal, Prussia, Romania, Russia, Sweden and Spain.
Coburg was not obviously destined from the outset to play a greater role in European history. While the Coburg dukes originated from one of the oldest German aristocratic families, the house of Wettin, their property was split up into numerous smaller domains as a result of constant testamentary partition, especially in the Ernestine line.
It was not until 1826, during the reign the Coburg duke Ernst I (1784-1844), that the domains were consolidated. From then on until 1918, he and his successors ruled over the two states of Sachsen-Coburg and Gotha in personal union.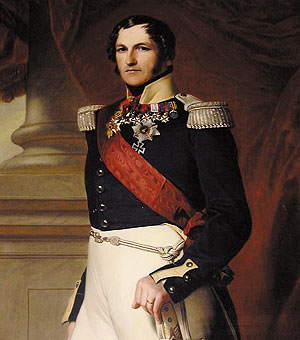 Portrait of King Leopold I of Belgium,
around 1840
In 1816 Prince Leopold (1790-1865), a younger brother of the Coburg duke Ernst I, married Princess Charlotte, heir to the throne of Great Britain, who however died only a year later in childbirth. With the support of Great Britain, in 1831 Leopold took over the throne of the newly founded monarchy of Belgium. In 1818 Victoire (1786-1861), a sister of Duke Ernst I and Leopold, had married Duke Edward of Kent. The only child of this second Coburg-British marriage was Victoria (1819-1901), who subsequently became Queen of Great Britain and Ireland and Empress of India.
In 1840 Queen Victoria married her Coburg cousin Albert (1819-1861), the second eldest son of Duke Ernst I. The dream wedding took place in London. With this the house of Sachsen-Coburg and Gotha established itself in Great Britain, and it was not until 1917 during the First World War that it changed its name to Windsor. The marriage of Prince Albert with Queen Victoria produced four sons and five daughters, who like their 39 children married into a large number of European ruling houses. Albert and Victoria were thus also regarded as the "grandparents of Europe".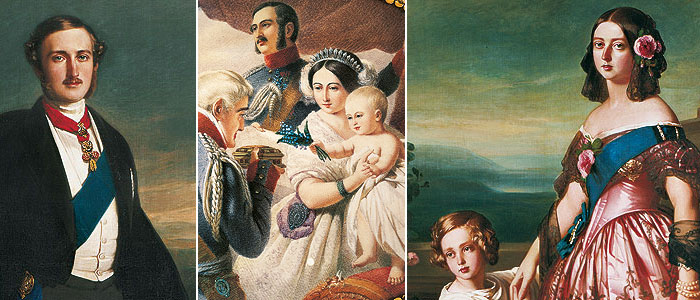 Prince consort Albert · Miniature entitled "1 May 1851"" · Queen Victoria with Edward, the heir to the throne
Queen Victoria made a number of trips to the home country of her beloved prince consort. On festive occasions the little residence town of Coburg hosted their relatives and thus the crowned heads of Europe. At these gatherings the guests who had travelled from many different countries paid visits to the Veste and the residential palace of Ehrenburg as well as Rosenau Palace, the summer residence set romantically in an English landscape garden, which was the birthplace of Prince Albert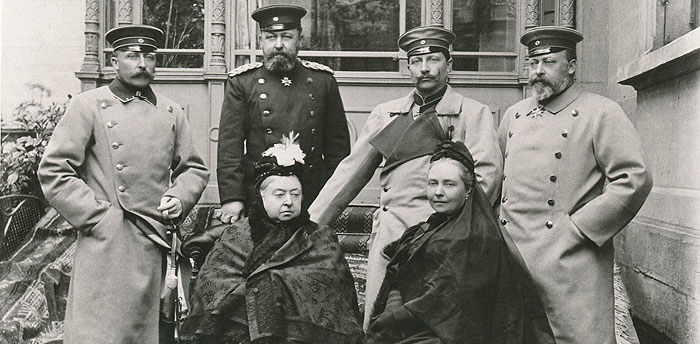 Queen Victoria with her children; (from left) Arthur, Alfred, Edward and Victoria, and her grandson Wilhelm II (second from right), in the garden in front of Edinburgh Palace (today the Coburg Chamber of Industry and Commerce) in April 1894 on the occasion of the marriage of her granddaughter Victoria Melita von Sachsen-Coburg und Gotha and her grandson Ernst Ludwig, Grand Duke of Hessen
Historical photo, © Staatsarchiv Coburg