Main information:
Rosenau Palace
History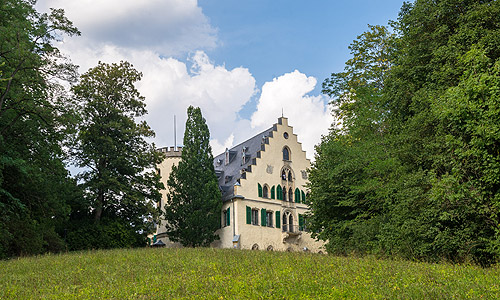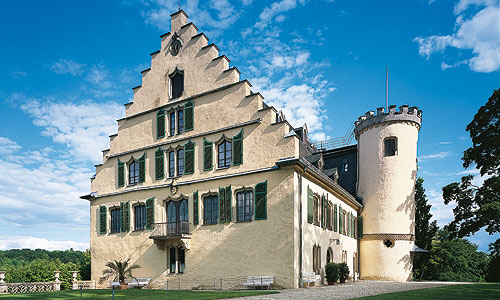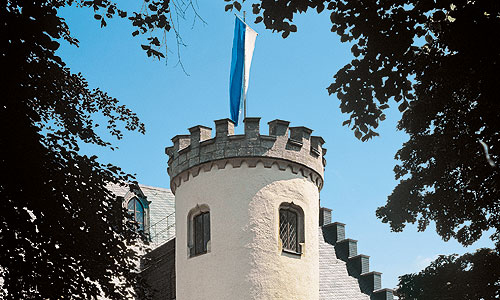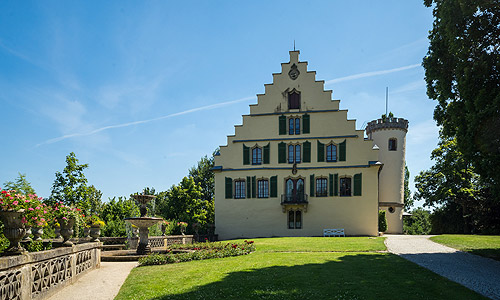 Rosenau Palace is picturesquely located in the middle of a landscape garden on a hill above the little River Itz in Rödetal, only a few kilometres northeast of Coburg. It is an outstanding early example of romantic Historicism in Bavaria.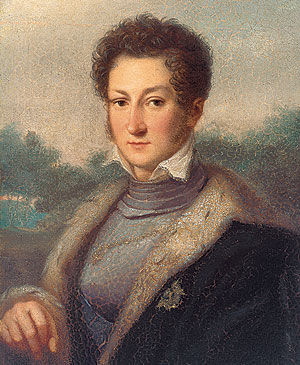 Duke Ernst I dressed as a knight
of Rosenau, painting, 1822
Duke Franz Friedrich Anton of Sachsen-Coburg-Saalfeld (r. 1800-1806) was persuaded in 1805 by Crown Prince Ernst to acquire the still fundamentally medieval seat of the Lords of Rosenau. In 1808, soon after taking power, Ernst ordered the ruined building to be remodelled in the Neo-Gothic style.
He wanted to create for himself a summer seat with particular emphasis on the building's medieval origins, in accordance with the romantic ideals of his time. The first ideas for the pointed-arch architecture and tracery ornamentation were provided by the young Berlin architect Karl Friedrich Schinkel. The reconstruction was completed in 1817.
The residential and assembly rooms in the palace are dominated by colourful frescoes in the Neo-Gothic style and the black-stained, polished furniture purchased by Duke Ernst I (r. 1806-1844) in Vienna. The bright, comfortably furnished rooms all reflect the duke's wish to combine "princely splendour with rural simplicity".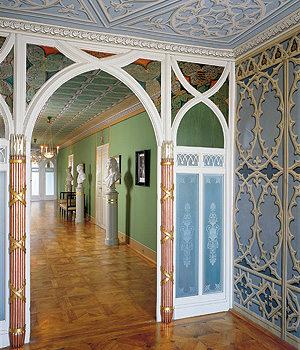 View from the South Balcony Room into the corridor
The completion of Rosenau Palace was celebrated in the year 1817 on the occasion of the marriage of Ernst I and Luise von Sachsen-Gotha-Altenburg with a tournament in old German costume on the meadows in front of the palace and a fancy-dress ball in the Marble Hall. It was in this hall that the second-eldest son of the ducal couple, Albert, was christened in 1819.
In 1845 Prince Albert (1819-1861) visited Rosenau together with his wife, Queen Victoria of Great Britain (1819-1901). In her memoirs, the queen says, "If I were not who I am, this would be my real home." Watercolours with views of the interior of Rosenau Palace were commissioned from various artists as souvenirs of this visit, and are still kept in the Royal Library in Windsor.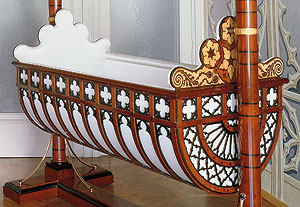 Cradle, around 1820, detail
After it had been used for various purposes in the 20th century, most recently as an old people's home, Rosenau was transferred in 1972 from the Coburg State Foundation to the Free State of Bavaria.
On 4 October 1990 the palace was reopened as a museum after it had been comprehensively renovated and restored as the knight's seat recreated in a romantic sentimental spirit by Duke Ernst I.